Sulforaphane is a compound within the isothiocyanate group of organosulfur compounds. It is obtained from cruciferous vegetables such as broccoli, Brussels sprouts, and cabbages.
Jump to:
I was first introduced to sulforaphane about a year ago. It has been so fascinating learning all about these phytonutrients.
Many people know all about the macro-nutrients (protein, carbs, fat), but what about the phytonutrients? There is so much to explore beyond what the eye can see. Let's discover more about phytonutrients.
I only began to enjoy broccoli in my 20s, it was one of the many vegetables my Mum tried to coax me to eat as a kid. It finally paid off - thank you, Mum!
We all know how difficult it is to get kids (and adults!) to eat their greens and vegetables. I believe the more we actually realize how good they are for us, and how delicious they can be, we really start to enjoy and appreciate them more.
What is Sulforaphane?
Sulforaphane is a phytonutrient, which is a fancy word for "nutrient found in a plant."
It functions as a powerful antioxidant, meaning it fights against and repairs the damage that occurs all the time in every cell in your body.
It's also an isothiocyanate — a type of compound that's synthesized from a precursor found in cruciferous vegetables, which are a part of the Brassica family.
When we say that broccoli or some other Brassica contains sulforaphane, that's actually a slightly misleading statement. The vegetable technically contains the precursor, an isothiocyanate, which then converts to sulforaphane. But how does that work?
The isothiocyanate found in sulforaphane-generating vegetables is called glucoraphanin, a biologically active, sulfur-containing glucosinolate compound that gives them that strong smell and taste.
In nature, one of its main functions is to repel pests. The glucoraphanin remains stable until the plant is broken, such as by the cutting or chewing of an insect or animal.
Once that happens, the glucoraphanin comes in contact with an enzyme called myrosinase, which is stored in another compartment of the cell. Spurred on by access to myrosinase, our gut bacteria then convert glucoraphanin to sulforaphane.
Potential health benefits of Sulforaphane
As part of a healthy diet and lifestyle
Protects the Gastrointestinal Tract(GI)
Promotes Healthy Skin
Improves Immune System Function
Promotes Weight Loss
Encourages Fully Body Detoxification
Reduces Autoimmune/General Inflammation
Promotes Hair Growth
Supports Healthy Liver Function
Combats Cancer
Lowers Bad Cholesterol
Reduces the Risk of Cardiovascular Disease
Helps Control Diabetes
Acts as an Antiviral
Fights against Fungal and Bacterial Infections
Slows Down Degenerative Disorders
Turbocharges Cognitive Function
Combats Depression/Anxiety
Can Reduce the Symptoms of Autism
May Help Asthma Sufferers
Alleviates Bladder Dysfunction
Promotes Healthy Eye Function
Great for Bone Formation + Density
Improves Arthritis Symptoms
Shields the Kidneys from Disease
Facilitates a Healthy Pregnancy
Sulforaphane-Rich Foods
Sulforaphane is synthesized only from cruciferous vegetables. The highest amounts of glucosinolates — sulforaphane's precursor — are found in raw, uncooked crucifers. Interestingly, domesticated varieties have fewer glucosinolates than wild-grown varieties. Glucosinolates are most abundant in the flower buds and seeds of these veggies, and the levels vary between species.
What Are Cruciferous Vegetables?
Broccoli, kale, cabbage, cauliflower, Brussels sprouts, and bok choy are all examples of the cruciferous, or cabbage, vegetable family.
The name stems from the Latin Cruciferae, meaning 'cross bearing', as the general shape, including four leaves, resembling a cross.
All of these vegetables share in common a slightly sharp, mustard taste and, in fact, cruciferous vegetables are part of the mustard family.
These diverse veggies all endow multiple benefits, giving us a wide spectrum of vitamins and minerals. Perhaps most importantly, they all help to reduce bodily inflammation and play a huge role in fighting the possibility of developing cancer.
Most people do not manage to get enough cruciferous veggies in their diets, but since a daily adult intake of only 2½ cups should do the job, it seems like something we could all easily do.
Broccoli Sprouts: The Ultimate Cruciferous Vegetable for Sulforaphane
Young broccoli plants hold the key to accessing huge levels of sulforaphane. At 3 to 4 days old, the tiny plants resemble alfalfa sprouts and exhibit a pleasantly bitter taste, but since raising good quantities of the plants takes considerable time and effort, people tend to miss out on them and receive low dietary levels of this wonder food.
Broccoli sprout benefits are huge. Organic broccoli sprouts at this age contain the highest levels of glucoraphanin known in the vegetable world.
As glucoraphanin converts to sulforaphane, the sprouts contain the largest potential sulforaphane food levels of the cancer-fighting isothiocyanate.
Higher levels mean more enzyme vitality and the capability to strengthen and detox the body's immune system. Crucially, although broccoli and other cruciferous veggies do contain the compound, nothing else comes close to the amazing broccoli sprout sulforaphane levels.
In fact, three-day-old sprouts contain up to 100 times more than mature plants!
In short, broccoli sprouts = sulforaphane!
Broccoli Sprouts
If there was ever to be some sort of a glucosinolate Olympics, though, broccoli sprouts would win gold. They offer the highest amount of glucosinolate per serving out of all vegetables.
A 1-ounce serving of broccoli sprouts provides 73 mg of glucosinolates (that's 292 mg in ½ cup!). Because they're so impressive, broccoli sprouts — and their extracts, in the forms of powders or supplements — have been the focus of much of the research on sulforaphane.
How to Grow Your Own Broccoli Sprouts
Broccoli sprouts are easy to grow at home, and they provide an inexpensive way to help you incorporate sulforaphane (and many other potent nutrients) into your regular routine. Here's how to do it.
Soak three tablespoons of broccoli sprout seeds in cool water overnight, or for at least four hours.
In the morning, drain the liquid from the seeds and rinse them well. Place your broccoli sprout seeds in a sprouter.
Rinse and drain your seeds with cool water every 8-12 hours.
On day three, move your sprouter into bright light. A good place might be near a kitchen window indoors. Here, you will continue to rinse and drain them every 8-12 hours.
On days five through six, your sprouts will be ready to harvest. You can tell when their leaves are open and most of them are green.
At harvest time, you can grab a big handful and throw them into a smoothie, toss them into a salad, juice them for a spicy "shot," make one of the recipes below, or (for the adventurous type) eat them straight away.
Make sure your sprouts are fairly dry before placing them in the fridge, as wet produce doesn't store well and will not keep as long. You can roll them gently in a towel and let them sit for a period of time to dry before placing them in a container with a lid in the fridge.
How Much Sulforaphane Do You Need?
While sulforaphane has undeniable benefits for your health, there's no established recommended daily amount of it to get just yet. Some studies use around 200 mg of dried broccoli sprouts, which are then often converted into extracts and supplements.
½ cup per day of fresh broccoli sprouts is a great goal to aim for.
If you can handle the taste (some people find it zesty, others find it obnoxious), ½ cup per day of fresh broccoli sprouts is a great goal to aim for. Remember not to cook them, though, because eating them raw will keep more of the glucoraphanin and myrosinase intact. This recommendation applies to other cruciferous veggies too.
It's ideal to eat at least some of them raw if you want to reap the most benefits from their sulforaphane. Try to include one to two servings per day as part of a balanced diet.
Sulforaphane as Part of a Healthy Diet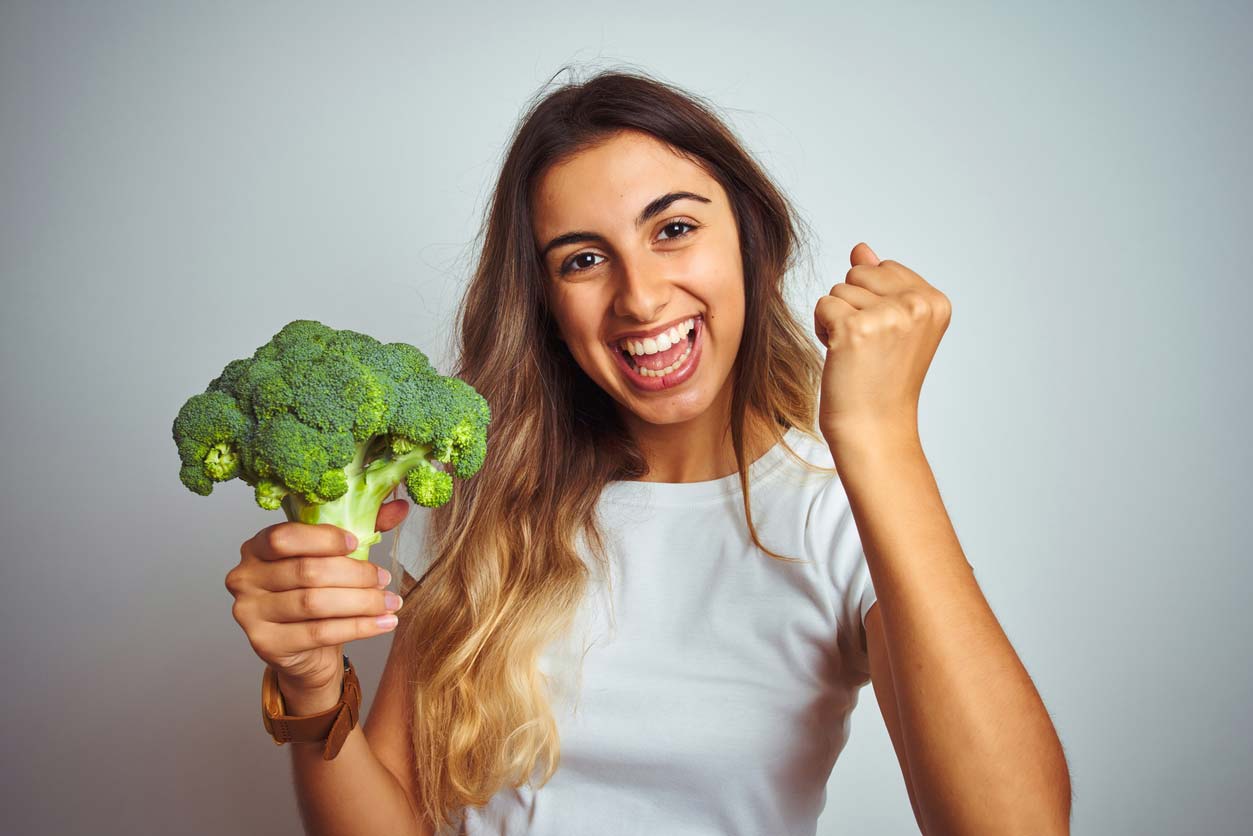 Sulforaphane is a powerful antioxidant with numerous benefits, including being anticancer, antimicrobial, and anti-inflammatory.
Broccoli and broccoli sprouts contain the highest amounts of glucoraphanin, the precursor to sulforaphane, and eating them raw will give you the most benefit. But all of the cruciferous veggies bring health-boosting goodness.
There are some supplements on the market that contain sulforaphane, and they may have benefits, too. But the most economical way to get it, as with most nutrients, is from your food. Incorporating broccoli and broccoli sprouts into well-balanced, whole foods, plant-based diet will help to keep you on track to health.
More information on sulforaphane
This is a great video from Found my fitness, explaining sulforaphane in more detail.
Sulforaphane rich recipes
How do I get my sulforaphane?
Recently, I've been adding sprouted broccoli powder to my smoothies. Check it out, maybe you can source something similar in your area.
Learn more about plant-based superfoods
Discover more ingredients in my food library